Is Fire Insurance Enough to Recover from Fire Damage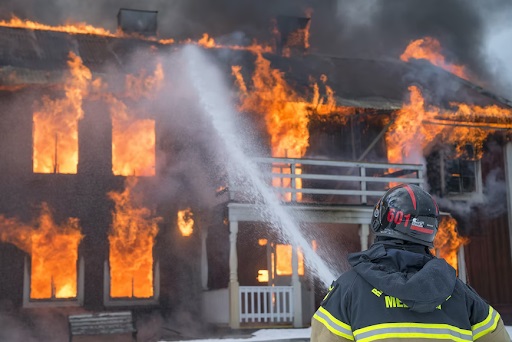 While the New York Government advocates for fire damage coverage in home insurance, getting the required coverage from the insurance company after fire damage to property can be challenging. However, following the protocols during this emergency can greatly help you file for fire damage in a way that can ease your situation. 
Here are some instructions on what you can do before a fire to minimize damage:    
Understand Fire Coverage 
Equipping yourself with the right information about fire damage coverage can help you file a correct report. There are four different types of fire coverage: 
Coverage for Dwelling 
This coverage helps restore your dwelling. Any damage to your house, the portion of your house, or smoke damage is covered under this.  
Liability Protection 
This coverage will help you save from a lawsuit if fire from your home spreads to other nearby homes. Any other related damages will also be covered under this part. 
Additional Expenses 
Any living expenses you bear due to evacuation from your home due to fire are covered under this section. While it doesn't cover complete expenses and the percentage of coverage may vary from insurance to insurance, it usually covers 30% of all food and lodging expenses.   
Coverage for Personal Property 
This coverage will cover the loss of all personal property, including clothing, furniture, and everything in between. There is a limit per item for this coverage. If you have expensive belongings, take a look at the point below: 
Get Additional Fire Coverage 
Almost all home insurance plans cover fire damage. However, if you live in an area where wildfires are common, you may need additional fire coverage for your home insurance plan. Regular home insurance only covers regular fire damage in wildfire regions. 
Valuable materials or expensive art and furniture are usually not covered as such belongings aren't supposed to be placed in fire risk regions without proper safety. Therefore, if you live in a wildfire region or have any valuables at home, getting additional fire coverage can greatly benefit you. 
Besides these, you can also fireproof your home or a part of your home where you store valuable belongings. However, in the unfortunate circumstances of experiencing a home fire, the following steps will help you get maximum coverage: 
Prioritize Saving Lives 
While you may be overwhelmed watching all your belongings turn to ashes, it is always advised to prioritize lives over material objects. Both at the time of the fire and afterward, focus on saving lives. You can minimize fire risk at home by taking preventive measures beforehand. Moreover, you can also secure precious belongings in advance to get maximum fire coverage. 
Record Fire Damage 
Your insurance company will need all the proof. Before their time visits and inspects your property, you should record all the fire damage yourself and file a detailed complaint. Don't worry if you have lost your camera in the fire too. You can record videos and take pictures on a simple phone camera too. Alternatively, you can ask a neighbor or a friend to help you record all the damage. 
File a Complaint 
A detailed complaint that includes all the damage in written and in pictures will make the process of receiving insurance coverage and restoring your home much easier for you. Try to file the complaint as soon as possible, as it would allow you to begin the restoration process and move back into your home. File the report with a clear head and calm temperament.
 Experiencing a home fire can be a traumatizing experience and can leave you anxious. Reach out to kind friends and neighbors and refer all details to those who have previously seen the burnt portions of your home to avoid missing out on any details.  
Once you have filed the complaint, don't forget to get your copy of the complaint about your record. It will help you negotiate insurance and coverage later on.  
Prevent Further Damage 
Filing a complaint as soon as possible is essential as it will allow you to sell your property to prevent further damage. Let the fire die down completely before you move on to the next step. Ensure that your property is completely safe before beginning the restoration process. It would also help you greatly if you wore protective gear when entering the burnt property.  
Restore Your Property 
You can choose temporary fixes if you want to move back into your home but also want to wait to hear back from your insurance company. Temporary fixes will be cheaper while making your home livable and saving your money on lodging in hotels or motels.  
Once everything is settled, opt for complete restoration of your property. Many restoration services, such as the 911 Restoration of Westchester in New York, provide complete fire damage cleanup and restoration for personal and commercial properties. You can also ask the restoration company to fireproof your property to minimize fire risk in the future.