Water Damage Pound Ridge
Our water damage Pound Ridge professionals are at the ready when you need it to assess and alleviate your worst water damage situations. From Vera Wang to Richard Gere, Pound Ridge is home to some of the most famous cultural figures. Pound Ridge may be a small town, but each and every one of its residents is important to our company. We have over 35 years of experience serving our community with our operations.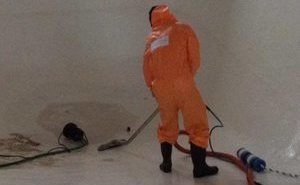 The main reasons for water damage are very different, depending on the home and the season, and our water damage Pound Ridge team has seen a wide variety of water damage issues.
One of the main reasons that water damage occurs is due to natural disasters or storm-related water. If your roof's drainage system isn't properly equipped to handle a lot of water, it can become a big problem when the water starts to leak down the sides of your house.
Call our 911 Restoration team right away if you have a plumbing emergency, because plumbing problems can unleash a powerful stream of pumping water that is difficult to stop, unless you have access to the main water valve. If you are currently experiencing a pipe burst, shut off your home's water supply at the main until the issue is identified and cleaned up. An accidental bathtub or toilet overflow along with surprising issues like a fire sprinkler malfunction can also be other central causes of water damage.
Professionals That Will Deal With Water Damage For You
There are a several causes that can lead to water causing damage to your property. Our IICRC certified technicians are trained and equipped to take care of all of them. Among the issues that we can help you with include: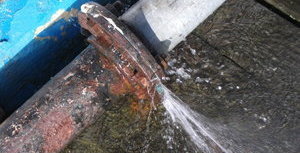 Roof leaks
Pipe bursts
Sewage backups
Clogged gutters and downspouts
Mold growth
Flooding
Storm damage
Fire sprinkler malfunctions
Water-based appliance hose ruptures
There's a lot of time and effort that goes into cleaning up water damage, so contact our water damage Pound Ridge team right away. It takes a high-quality professional service to ensure that no mold or mildew eats away at your home causing rot and other issues down the road.
Part of cleaning up is learning how to prevent water damage from happening in the first place. When you see your gutters and downspouts clogged up, you know you're overdue for a cleaning session. One of the simplest steps you can take is to schedule a regular time to have your roof's water drainage system cleaned out. You could also install a sump pump in your basement if you're nervous about basement flooding. Install a sewage back flow valve to keep raw sewage out of your home and check over all of your plumbing regularly so that leaks and drips can be fixed immediately.
Professionals Ready To Give Your Home A Fresh Start
Our water damage Pound Ridge professionals want to assure you that when experiencing water damage issues, it's always wise to use professionals to mitigate your water damage needs. We are licensed, insured and bonded and we use the latest drying technology in our water extractions to give you the best home clean up and drying services possible.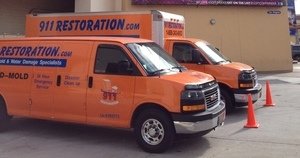 When it's fresh start your home needs after a water emergency hits, trust that we will be there to provide you with the quality repairs and restorations that will ensure your home gets back to looking good as new. With our experience, expertise, and advanced equipment, you can rest assured that you're getting top notch services.
Our affordable prices are augmented our working with all insurance companies so that you don't feel damage to your bank account as well, and we'll respond within 45 minutes of your call. We are available 24/7/365 for your convenience. Call the water damage Pound Ridge experts from 911 Restoration today!