Water Damage in Yonkers
Yonkers receives abundant precipitation throughout most of the year, with spikes appearing in the summer and winter. These weather patterns put homes and businesses at a high risk of encountering water damage. The longer moisture stagnates on porous surfaces, the more likely mold and mildew will grow. By calling 911 Restoration of Westchester the moment you discover water leaks and flood damage, you can reduce the chances of experiencing a mold infestation. We keep our offices open 24/7/365, so you can contact us day or night. Our technicians will respond within 45 minutes of receiving your call and arrive ready to begin same-day water damage restoration.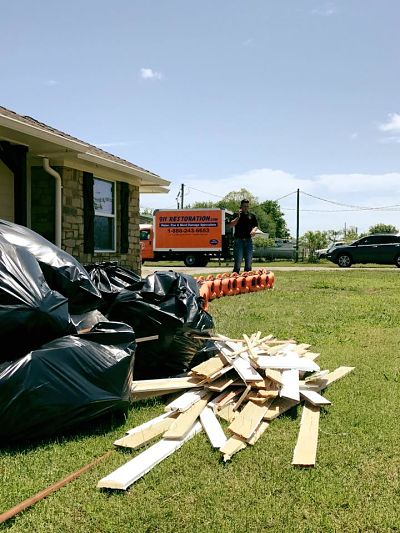 Property owners will receive a free water damage and mold inspection. By visually assessing the damage, we can provide you with an estimate of the water cleanup cost. If mold decontamination is also required, our technicians will go over the details of the mold removal cost, as well.
Unlike other water restoration companies, 911 Restoration of Westchester specializes in both water mitigation and mold removal. We often find both issues inside homes and businesses, since it only takes 24 hours for mold to grow from water damage.
With so many years of experience in the industry, our professionals understand the effects that mold can have on those inhaling spores. All mold needs is water and time to flourish, so our experts know that prompt water removal is crucial in preventing an infestation.
When you hire 911 Restoration of Westchester, you can rest assured that our team can handle every aspect of the restoration. We employ IICRC certified professionals that have years of experience conducting water and mold remediation in both residential and commercial properties.
Our entire flood cleanup company is also licensed, bonded, and insured, so you can feel confident in our ability to protect you under even the most severe circumstances.
Nothing is more important than maintaining a safe and healthy environment for you and your family. So, call 911 Restoration of Westchester when you need water damage restoration in Yonkers. We will give you peace of mind as soon as we arrive!
Flood Cleanup and Mold Removal Go Hand-in-Hand
It is crucial to act quickly when water damage impacts your property, especially in Yonkers, when humidity levels are high. The moisture-rich environment can spark a mold infestation within a few days.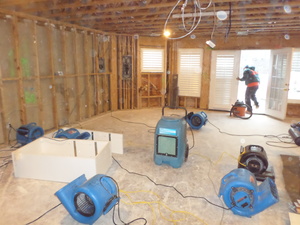 Over the years, we have seen all kinds of water damage, and basement floods are one of the highest risk situations. Basements are already prone to mold and mildew, so when water damage is present, an infestation is practically inevitable.
Fortunately, 911 Restoration of Westchester understands that time is of the essence when it comes to basement flooding situations. Our repair techs will never make you wait for help. You can count on us to conduct flood cleanup in Yonkers on a moment's notice.
By administering quick and thorough water extraction, drying, and dehumidifying procedures, we can get a handle on any budding mold growth. We will also use infrared leak detection technology to discover every trace of moisture hidden inside walls and ceilings.
By getting the property as dry as possible, we can create an inhospitable environment for mold. Our technicians will focus on the drying effort, which typically includes the use of air movers and dehumidifiers.
It is important to remember that it doesn't take a flooded basement to create a mold problem. Even just a small leak has the potential to cause a widespread mold infestation.
The sooner you receive water damage restoration, the better your chances are of bypassing mold entirely. If you are unsure about the extent of your moisture issue, it is best to reach out for a free mold inspection.
So, call 911 Restoration of Westchester at the first sign of a water leak in your basement or any other part of the property. We will provide you with full-service water restoration that is sure to recover your property from even the most severe circumstances.
When it Comes to Water Damage Restoration, Customer Service Comes First
Customer service is essential to the recovery process. We understand the challenges presented by water damage and mold, and we want you to feel at ease as soon as our technicians arrive.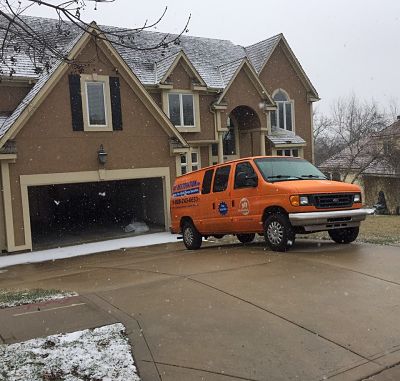 By providing you with around the clock customer care, 911 Restoration of Westchester hopes to give you that sense of security throughout the water mitigation process.
The best way to keep you feeling comfortable is by giving you all the information regarding the restoration work. We keep a clear line of communication open so you can ask us questions as soon as they arise.
Our staff will walk you through every step of the water damage restoration, from the initial inspection to the financial logistics.
911 Restoration of Westchester accepts all types of insurance. If you need help understanding your policy, we offer free insurance consultations. By having a professional go over your insurance plan, you will fully understand the financial aid you are entitled to receive.
Our technician will make sure you obtain that coverage by helping you take inventory of the damage to both your property and belongings. We will create an itemized list of your losses to submit with your insurance claim.
You can rest assured that you are receiving affordable, high-quality services from a flood cleanup company that cares and understands your needs. Call 911 Restoration of Westchester today, and we will show you that a Fresh Start is possible!
Servicing the cities of Amawalk, Ardsley, Armonk, Bedford, Bedford Hills, Bethel, Blooming Grove, Brewster, Briarcliff Manor, Bronx, Bronxville, Buchanan, Carmel, Chappaqua, Chelsea, Cold Spring, Cortlandt Manor, Cross River, Croton Falls, Croton-on-Hudson, Dobbs Ferry, Eastchester, Elmsford, Fairview, Fishkill, Garrison, Golden's Bridge, Greenwich, Harrison, Hartsdale, Hastings-on-Hudson, Hawthorne, Heritage Hills, Hyde Park, Hopewell Junction, Howells, Irvington, Katonah, Lake Carmel, Lake Peekskill, Lincolndale, Mahopac, Mamaroneck, Middletown, Millwood, Mohegan Lake, Monsey, Montrose, Mount Kisco, Mount Vernon, Nanuet, New City, New Rochelle, New Windsor, Newburgh, North Salem, Ossining, Peekskill, Pelham, Pelham Manor, Pleasantville, Port Chester, Poughkeepsie, Pound Ridge, Purchase, Purdys, Putnam County, Putnam Lake, Putnam Valley, Rye, Saugerties, Scarsdale, Shenorock, Shrub Hub, Somers, Southfields, South Salem, Spring Valley, Stormville, Suffern, Tarrytown, Thornwood, Tuckahoe, Valhalla, Village of Pelham, Waccabuc, Wallkill, Wapperings Falls, Warwick, West Harrison, White Plains, Yonkers, Yorktown Heights, and the surrounding areas.