Sewage Cleanup Westchester
Property sewage flooding should be treated without delay in order to protect the integrity of your property and to prevent mold growth, which is why our sewage cleanup Westchester pros at 911 Restoration of Westchester are available 24/7/365 to perform the most comprehensive water extraction services in the industry.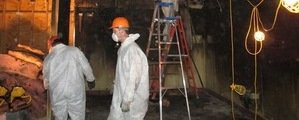 Branch owner of 911 Restoration Westchester, Eli Elfasi, is confident that his crew can remediate any sewage backup or pipe burst issue that comes their way.
With all of our many years of experience eliminating black water in the property restoration industry, we know that we can get you back into your property quickly and without cutting any corners. When our sewage cleanup crews perform black water removal tactics, our unit do so with the skill and care that leaves all properties in their best possible state.
Raw sewage intrusions are primarily caused by plumbing disasters like a pipe burst, or bad rain floods that can cause roof leaks or flood your home's foundation, which is why our sewage mitigation experts guarantees to arrived within 45 minutes.
Our workers takes great pride in protecting the homes and commercial properties in this area and our mitigation  Westchester members take great care in performing our comprehensive restoration services for our community.
Usually when sewage issues are left untreated, it can play a role in mold and mildew production, which is why you need to call our certified cleanup crew to provide you with comprehensive services that deal with both sewage and mold cleanup.
Our goal is to make it easy for you to get help to your household when you find yourself dealing with an overflow, which is why our operation is always standing by around the clock to assist you. Our cleanup and restoration workers will provide you with the highest degree of black water cleanup services, such as:
Raw sewage sanitization

Black water cleanup

Leaky pipe repair

Decontamination

Restoration of pipe bursts

Odor control services

Restoration of faulty plumbing system

Overall comprehensive damage repair

Toilet overflow remediation
Whether a toilet overflow floods your garage or a pipe burst sends black water in your living room, soaking your carpets, our sewage cleanup techs are offering emergency response 24/7. If your home or storefront is already dealing with black water, contact our certified team for immediate help today!
When Dealing With Sewage cleanup You Can Trust Our Team
We know exactly how to go into a sewage cleanup or pipe burst situation without wasting any time.

You want to call the professionals when you are faced with sewage backup. Our sewage backup cleanup team has the experience and the know-how to get your property cleaned and sanitized from a pipe burst or toilet overflow in no time.
We bring only the latest drying technology to your property so that we can start work properly and immediately.
We know how trying these times are and that is why we make sure to walk our customers through the whole process. Here are some critical things to remember:
No matter what level of disaster has occurred, our pipe burst and sewage cleanup techs know how to successfully remediate the situation.

Whether the cleanup includes black water cleanup or mold remediation, they know how to tackle it head on.

Our entire operation is licensed, bonded and insured, not only to protect our customers, but to show the level of professionalism we hold ourselves up to.

Our team's main goal is to provide you with a peace of mind by restoring your property.
Building lasting relationships with people in the community is the cornerstone of our business and we will do everything we can to maintain them through pipe bursts or any kind of sewage or black water concern. With all of our years of experience in the property restoration industry, we know that when an emergency involving sewage occurs, it is necessary to act quickly.
The longer black water sits on a surface, the greater the chances are that mold may infest the property and seep into areas of the property unbeknownst to you.
In order to maintain the structural integrity of your property , our sewage experts use comprehensive water extraction, sewage eradication and drying techniques that get the household dry and cleared of any contaminated moisture. When you hire our sewage cleanup professionals, you can be confident in the fact that our team will properly and thoroughly get your property free of all sewage particles.
Our sewage cleanup Westchester staff understands how important it is to get to a job site quickly. That is why we keep our offices open at all hours, all year long. Call us when you have an emergency sewage situation and know that when we arrive we will be ready to get to work right away.
Call The Pros to Handle Your Sewage Emergency
With every job our agents are called to, we value professionalism and customer service, so much so that our specialists will guide you through the entire insurance process from start to finish.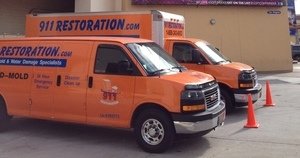 Eli wants everyone in his operation, including property owners with a pipe burst, to feel like they are part of the 911 Restoration family. 
Our certified team understand that when you are faced with floodwater in your property it can be both overwhelming and frustrating. This is why our sewage specialists want you to know that all you have to do is pick up the phone and call our office, and from that point on our pros will have the whole situation under control.
Our crews will take care of everything, from all of the renovations to assisting you with your insurance company. Our sewage cleanup agents make sure their services are affordable and will readily work with all major insurance companies for your pipe burst or any other sewage removal need.
The financial aspect of the restoration process is not something we want property owners to be burdened by. We know that it can be very confusing to understand the terms of your policy, especially if you have never used it before.
We have many years of experience working with all types of insurance, so you can depend on our sewage cleanup team to submit all the information to file your claim for you. Providing you with well rounded customer service is incredibly important to us, so once we are on the job, we will do whatever it takes to show you how dedicated we are to your home or  business.
With all of our experience working with insurance providers, our certified sewage cleanup crews know exactly how to file your claim and will take charge of the claims process for you.
We want property owners to know that they do not have to live with the financial burden that a sewage cleanup may impede upon your life. You can count on us to do everything necessary to get you the best coverage possible.
Even if for some reason your insurance does now cover the damage done to your property, you can rest assured knowing that our sewage cleanup experts offers the most affordable prices around. Call our sewage backup cleanup experts with 911 Restoration Westchester and let us help give you and your home or office a fresh start today!