Sanitization and Disinfection Services in Westchester
As a property owner, you play a crucial role in the battle against coronavirus spread.
Coronavirus is highly contagious. Those who are infected may take as long as 14 days to exhibit clear symptoms. Whether you own a home or a commercial facility, those who pass through your space may bring contamination without realizing it. To make matters more complicated, coronavirus can remain viable on a surface for as long as three days.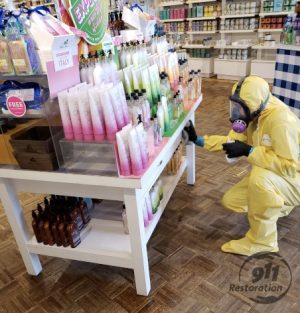 The bottom line: you must never assume your space is free of coronavirus simply because your family, employees, or customers seem healthy. And you should never hope that any contamination left today will be gone by morning.
While most who contract this illness do recover fully, the consequences can be dire for our more vulnerable neighbors. High-risk individuals could develop complications such as pneumonia, severe acute respiratory syndrome, and kidney failure. They may even die from a coronavirus infection. Please remember that you cannot always know which members of your staff are immunocompromised. You don't know which customers return home to care for an elderly family member. And when members of your own household go out into the community, you do not know who they will encounter. Call us at 914-222-4041 and see how we can help.

This information is not meant to scare you, but to remind you that every choice we make as individuals ripples out to affect those around us. At a time when there is constant fear in Westchester, we all have the power to offer our neighbors reassurance and peace of mind.
If you are a homeowner, this means disinfecting regularly for the sake of your loved ones. It also means taking sanitization precautions when someone in your family falls ill. Do all you can to protect those within your household and to prevent carrying coronavirus beyond the confines of your home.
For business owners, diligent sanitization demonstrates your commitment to your community. When you take every possible measure to keep your property clean, your patrons and employees experience better peace of mind. And in times like these, peace of mind is a gift.
Let our sanitization crew help you reassure customers or family members with thorough, professional disinfection solutions. We serve every type of property in Westchester and the surrounding areas. You can call us for office deep cleaning or sanitizing for your retail store. We clean your condo, home, or apartment. Wherever you live, wherever you work, we'll be there. Our disinfection teams are trained to follow CDC and EPA protocols… and to provide you with compassionate, communicative service.
In a time of uncertainty, it's important to know we can turn to one another. And we want you to know you can always turn to 911 Restoration of Westchester. Call us at 914-222-4041