Sewage Backup Cleanup Eastchester
Sewage backup cleanup is a service best left to the professionals because it contains deadly black water. We are licensed, insured, and bonded to handle such a disaster, and our sewage backup cleanup Eastchester crew at 911 Restoration Westchester is available 24/7 to help you with water cleanup. We know how scary it can be when a toilet overflow floods your home, so we act fast, making sure water removal is efficient and gets your property back in business as soon n as possible. When returning water enters your home, we respond within 45 minutes to start:
Pumping water out
Sanitizing the area
Plumbing repair
A free inspection
By the time we are finished, your home or office will be back to its premium state and you will know how to protect it from future plumbing leaks. This is very important because Eastchester is at significant risk of water damage. It is surrounded by the Bronx River and a number of reservoirs. In addition, the bitter cold winters can cause a pipe burst, ruptured hose, and other issues. Pipe insulation is a must here throughout the winter months. An annual inspection from our sewage backup cleanup Eastchester team can also help significantly lower your chances of being a victim to plumbing failure. If you are worried about incoming storms flooding your water line, or if a clog causes a toilet overflow, call us for sewage backup cleanup services available 24/7 at an affordable price.
Who do I Call for a Toilet Overflow?
Call our sewage backup cleanup Eastchester specialists for water removal if your home floods due to a toilet overflow. We are licensed, insured, and bonded , using full hazmat gear and the latest drying technology to repair your home after black water spills. This substance is filled with bacteria, so it is vital that you request the aid of 911 Restoration Eastchester. When you have a toilet overflow, follow these steps: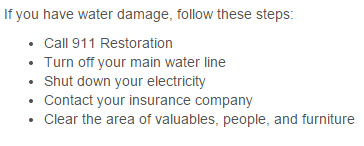 We will respond within 45 minutes to start water cleanup. Before we leave, we will show you a valve that can save you from future toilet overflow. We have over 35 years of experience restoring houses after returning water ruins the drywall carpets and more. Trust us to repair your home after such an incident and we will provide you with same day service to get the job done quickly and thoroughly. Call our sewage backup cleanup Eastchester staff when you need our disaster restoration services, and we will file your water damage insurance claim for you to get the most affordable price.
How do I File a Water Damage Claim?
This is another area where it is best to have our sewage backup cleanup Eastchester professionals help you because we speak the company jargon and will file your insurance claim for you. We understand what is covered under homeowner's insurance versus flood insurance, and as long as you kept up with regular maintenance, your plumbing leaks or washer burst should fit well into your policy. Flood insurance is reserved for houses that take on water from outside sources. Most toilet overflow or ruptured houses are caused by faulty plumbing lines. An annual free inspection can help you spot these faults before they become troublesome, allowing you to do all the necessary plumbing repaired and prove yourself to your insurance company. If you have a record of fast fixes, there should be no problem with getting your agent to cover the entire cost of water removal and plumbing repair. Since the Insurance Information Institute has done studies that show water damage is a highly common reason for insurance loss, it is important you are prepared for the worst. We are the best sewage backup cleanup Eastchester company, so call us when you have an issue with the water line.
What is the Best Sewage Backup Cleanup Company in Eastchester?
The best sewage backup cleanup Eastchester company is 911 Restoration Because we value professionalism, always put the customer first, and remain available 24/7. We show you how to prevent future disasters and get the most out of your insurance. Any time you need disaster restoration services in the city of Eastchester, we will be there to help you with mold removal, water damage restoration, and much more. With the help of our latest drying technology and odor removal, your home will be as good as new. Call our sewage backup cleanup Eastchester experts for a fresh start after even the worst toilet overflow.