Water Damage in the Bronx
When you experience a water damage emergency, you can stay calm knowing 911 Restoration of Westchester is standing by waiting to help you. Whatever the situation may be, you can count on us to provide affordable, high-quality water damage restoration in the Bronx. Our technicians are available 24/7/365 to perform leak repairs and flood cleanup. No matter what time you call, we guarantee to arrive within 45 minutes. Property owners will receive a free water damage and mold inspection, including an estimate. We want you to feel completely comfortable with the water restoration services and will answer any questions you have about the water and mold removal costs. Call us at 914-222-4041 and allow us to provide you with a free visual inspection.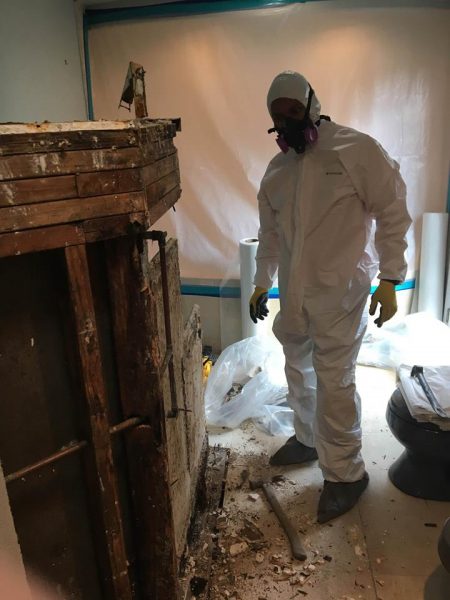 You can feel confident in our ability to restore your home or business from any situation. Whether dealing with a flooded basement, pipe burst, or sewage overflow, we can handle it all.
911 Restoration of Westchester employs IICRC certified technicians that are experts at both residential and commercial restoration. Our entire flood cleanup company is also licensed, bonded, and insured for your full protection.
You should contact us at the first signs of water or mold problems, so our technicians can get started implementing water damage restoration services right away. The sooner we begin the water removal, the better the chances are of minimizing and even preventing subsequent issues.
If you discover water stains and mold growing on the walls, our repair techs will do everything needed to make your property a clean, safe place once again. Our pros used the most advanced equipment on the market to ensure that your property is completely sound once again.
We will remediate all water from the premises to uphold the structural integrity of the property and stop mold spores from growing into a full-blown infestation. Our crew members have years of experience returning properties to their original, beautiful state.
To best serve you, 911 Restoration of Westchester will conduct same-day flood cleanup in the Bronx. So, call our professionals today and let us show you that a water crisis can actually be the Fresh Start you need! Call us at 914-222-4041 and see how we can help.

Keeping Your Property Protected Against Both Water Damage and Mold
Where there is water damage, there is usually mold. Under the right conditions, it only takes 24 hours for mold to grow in the Bronx, making prompt water damage restoration essential in preventing the spread of spores.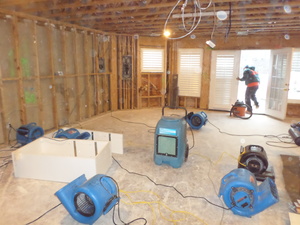 By initiating flood cleanup services quickly after a disaster takes place, we can minimize the chances of experiencing a mold infestation. However, if conditions are right, mold can be inevitable. 
Even though a mold infestation is not necessarily an emergency, our technicians will take immediate action. As soon as we are on the scene, we will conduct comprehensive mold removal procedures.
It is vital that you do not attempt to clean up the mold infestation on your own. There are many different types of mold, and some can pose serious health hazards to those spending time on the property.
Our technicians can facilitate mold sampling and testing services so we can determine precisely what type of fungus is living inside the property. It is crucial to understand that although most molds look alike, their toxicity levels can vary drastically.
Our specialists use containment apparatuses like vapor barriers to keep mold spores from spreading throughout the property during the mold remediation. We also use infrared leak detection technology to ensure we remove all hidden patches of mold and water damage.
911 Restoration of Westchester wants you to understand the importance of staying proactive in the care of your property. By implementing some simple maintenance steps, you can reduce your losses due to water damage and mold.
The roof on your building needs to be in good shape all year round. It is the one thing that protects your property's interior from the elements.
During the winter, it is common for ice to form on top of a building. The heat in your home or business slowly melts the snow off your roof, allowing water to get in through your ceiling. These leaks can create attic condensation that will not only cause water damage but eventually create mold.
When a pipe bursts, it is usually due to freezing temperatures or old plumbing. If you can keep your pipes warm with insulation, then you will stop basement flooding and water damage. Property owners should wrap the exposed pipes in the proper insulation and keep your heater on throughout the cold season.
Even during the dry seasons, basements are prone to moisture and mold. Standing water can cause mold, especially in a flooded basement. By installing a moisture-activated sump pump, you can start the water removal process while waiting for our technicians to arrive.
When dealing with a basement flooding incident, it is critical to receive water damage restoration right away. Call 911 Restoration of Westchester the moment you need water removal, drying, and dehumidifying services. We won't waste any time restoring your property.
We Will Guide You Through the Entire Water Restoration Process
911 Restoration of Westchester wants you always to feel like customer service is our main priority. While we handle all types of water restoration in the Bronx, our main concern is making sure you have peace of mind.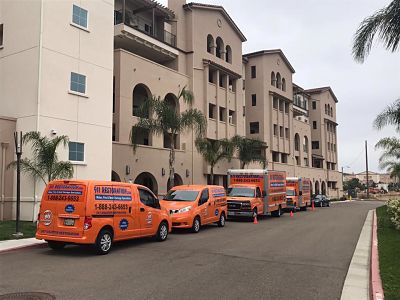 Our technicians want to get to work on your water damage emergency as quickly as possible after receiving your call. Time is of the essence, not only for reducing your losses but for maintaining your satisfaction.
We want to make the water cleanup process as easy on you as possible. Our staff hopes that maintaining a clear line of communication can keep you reassured the whole way through.
Understandably, you will have questions regarding the water and mold removal cost. We try to ease your mind about the financial logistics by providing affordable prices, conducting free estimates, and offering free insurance consultations.
Our professionals will help go over your insurance policy to determine the full extent of your coverage. We will handle all of the insurance paperwork to get you the financial assistance you deserve.
Throughout our many years in the restoration industry, we have come to understand the best way to deal with your provider. You will receive the most coverage by giving your insurance company as much information as you can regarding the water damage.
To ensure you receive the most out of your policy, our technicians will help you take inventory of your losses and submit your insurance claim for you. We will also directly bill your provider, allowing you to relax during the submissions process.
Remember, you do not have to deal with water damage alone. Call 911 Restoration of Westchester when you have questions about water damage restoration, mold decontamination, insurance, or anything else! We care and understand what you need from a restoration company. Call us at 914-222-4041

Servicing the cities of Amawalk, Ardsley, Armonk, Bedford, Bedford Hills, Bethel, Blooming Grove, Brewster, Briarcliff Manor, Bronx, Bronxville, Buchanan, Carmel, Chappaqua, Chelsea, Cold Spring, Cortlandt Manor, Cross River, Croton Falls, Croton-on-Hudson, Dobbs Ferry, Eastchester, Elmsford, Fairview, Fishkill, Garrison, Golden's Bridge, Greenwich, Harrison, Hartsdale, Hastings-on-Hudson, Hawthorne, Heritage Hills, Hyde Park, Hopewell Junction, Howells, Irvington, Katonah, Lake Carmel, Lake Peekskill, Lincolndale, Mahopac, Mamaroneck, Middletown, Millwood, Mohegan Lake, Monsey, Montrose, Mount Kisco, Mount Vernon, Nanuet, New City, New Rochelle, New Windsor, Newburgh, North Salem, Ossining, Peekskill, Pelham, Pelham Manor, Pleasantville, Port Chester, Poughkeepsie, Pound Ridge, Purchase, Purdys, Putnam County, Putnam Lake, Putnam Valley, Rye, Saugerties, Scarsdale, Shenorock, Shrub Hub, Somers, Southfields, South Salem, Spring Valley, Stormville, Suffern, Tarrytown, Thornwood, Tuckahoe, Valhalla, Village of Pelham, Waccabuc, Wallkill, Wapperings Falls, Warwick, West Harrison, White Plains, Yonkers, Yorktown Heights, and the surrounding areas.