Water Damage in Spring Valley
Between seasonal storms and property mishaps, there are opportunities for all kinds of water damage to influence your home or business. Pipe bursts, basement flooding, and water leaks are common problems in Spring Valley. 911 Restoration of Westchester understands the importance of quick, same-day service when it comes to dealing with a water damage emergency. When you need water damage restoration in Spring Valley, our technicians are available day and night to help you. We always respond within 45 minutes, no matter what time you call. Our office is open 24/7/365, so you can confidently call us at any time, knowing that someone will be there to assist you.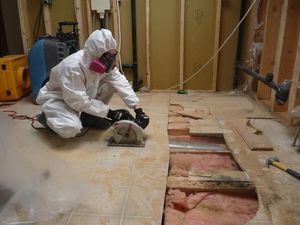 Property owners will receive a free water damage and mold inspection. By visually assessing the property, our technicians will formulate an estimate of the water restoration needed to repair your home or business.
Our technicians are experts at both residential and commercial restoration. Whether you own a home or business, you can trust that we are capable of repairing every issue affecting your property.
Along with conducting water removal, drying, and dehumidifying services, our repair techs will also provide mold removal. Water damage often leads to mold growth, which can spread throughout the property at an alarming rate.
You can have complete confidence in our technicians' ability to mitigate every issue affecting your property. We employ experienced, IICRC certified professionals that will make sure the environment is safe and clean for everyone.
911 Restoration of Westchester always has your best interests in mind. Our licensed, bonded, and insured statues guarantees that you will be protected even under the most severe circumstances.
We have been in this industry for many years and have seen it all, from flooded basement and pipe bursts to ice dams and property damage. So, call 911 Restoration of Westchester the moment you need leak repairs and flood cleanup in Spring Valley. We will turn your water disaster into a Fresh Start!
We Provide 24-Hour Emergency Water Cleanup to Prevent Mold Growth
Mold can't grow without moisture, making meticulous water removal and drying procedures essential to the mold decontamination process.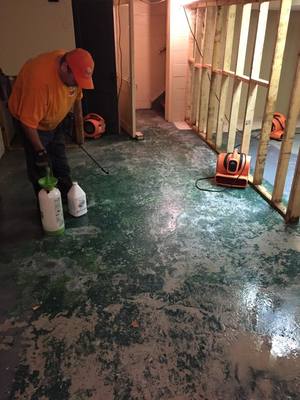 Although mold can grow anywhere in the property, the basement is most prone to infestations. This area is susceptible to moisture problems due to its underground location and needs regular inspection.
A heavy storm can expose water leaks in the basement, which can lead to water damage and even basement flooding. This increased moisture can spark a mold infestation within 24 hours.
Due to the rate at which mold can grow, our technicians are ready to spring into action the moment you need flood cleanup. We provide 24-hour home flood cleaning services so our technicians can immediately contain the basement flooding and minimize any mold growth.
Once water extraction is complete, our technicians will focus on drying and dehumidifying procedure. We will use infrared leak detection technology to make sure no hidden spots of moisture go overlooked.
Mold quickly grows in porous materials such as drywall and fabric. We will address any carpet water damage to prevent mold growth, as well as disinfect basement floors after flooding occurs.
Even if you initially call us for flood cleanup services, our technicians will arrive prepared to conduct mold removal as needed. You can trust that we will execute a water damage restoration strategy that deals with every issue affecting your property, so call 911 Restoration of Westchester today!
Our Water Damage Restoration Comes with Customer Care
Customer service is essential to water restoration. 911 Restoration of Westchester care and understand what you need from a flood cleanup company, and we will deliver.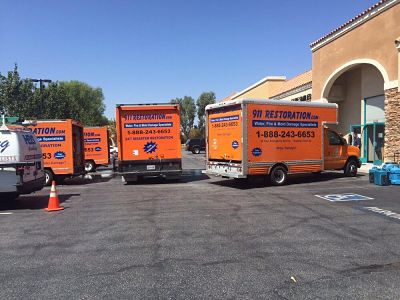 Our technicians will put your mind at ease by acting with professionalism and positivity. We will treat your property with the respect it deserves by staying mindful of your belongings.
If the situation requires the removal of your furniture and personal items, our repair techs will facilitate the pack-out and storage procedures. We will keep your belongings safe while we conduct the water damage restoration.
911 Restoration of Westchester aims to provide high-quality, affordable water mitigation services to Spring Valley. Along with keeping our prices competitive, we accept all types of insurance.
Our staff will provide you with a free insurance consultation to ensure you fully realize your coverage. We will do whatever we can to keep your out-of-pocket expenses low, including filing your insurance claim and directly billing your provider.
If you need assistance taking inventory of the damage to your property, our onsite technicians will help you create an itemized list of your losses to submit to your insurance provider.
We care about your wellbeing and want to make you feel comfortable every step of the way. So, call 911 Restoration of Westchester when you need professional water damage restoration. Let our technicians give you the peace of mind you deserve today!
Servicing the cities of Amawalk, Ardsley, Armonk, Bedford, Bedford Hills, Bethel, Blooming Grove, Brewster, Briarcliff Manor, Bronx, Bronxville, Buchanan, Carmel, Chappaqua, Chelsea, Cold Spring, Cortlandt Manor, Cross River, Croton Falls, Croton-on-Hudson, Dobbs Ferry, Eastchester, Elmsford, Fairview, Fishkill, Garrison, Golden's Bridge, Greenwich, Harrison, Hartsdale, Hastings-on-Hudson, Hawthorne, Heritage Hills, Hyde Park, Hopewell Junction, Howells, Irvington, Katonah, Lake Carmel, Lake Peekskill, Lincolndale, Mahopac, Mamaroneck, Middletown, Millwood, Mohegan Lake, Monsey, Montrose, Mount Kisco, Mount Vernon, Nanuet, New City, New Rochelle, New Windsor, Newburgh, North Salem, Ossining, Peekskill, Pelham, Pelham Manor, Pleasantville, Port Chester, Poughkeepsie, Pound Ridge, Purchase, Purdys, Putnam County, Putnam Lake, Putnam Valley, Rye, Saugerties, Scarsdale, Shenorock, Shrub Hub, Somers, Southfields, South Salem, Spring Valley, Stormville, Suffern, Tarrytown, Thornwood, Tuckahoe, Valhalla, Village of Pelham, Waccabuc, Wallkill, Wapperings Falls, Warwick, West Harrison, White Plains, Yonkers, Yorktown Heights, and the surrounding areas.