Water Damage Thornwood
Our water damage Thornwood team at our 911 Restoration Westchester company is dedicated to protecting our community from the dangers of roof leaks, flooding, or pipe bursts. Covering only 1.1 square miles, Thornwood may seem tiny to some people. But with almost 4,000 residents, Thornwood citizens need a reliable water damage repair company dedicated to servicing them.
You may have water damage if you don't properly clear out your roof's water drainage system, and this is the most common water damage that our water damage Thornwood team sees. Leaves, dirt, and debris can all block water from draining away from your home and it can result in leaks, mold and mildew.
You could also have a major plumbing problem like a pipe burst emergency or a water line break. These can result due to normal wear and tear, a plumbing system that wasn't installed correctly, or a frozen pipe in harsh, cold temperatures. But whenever these situations occur, you can trust in our IICRC certified technicians to be able to provide you with the best solutions.
Preventing Water Damage Situations From Harming Your Home
Accidental water damage can also happen, and our water damage Thornwood team can help you solve even the worst water damage occurrences. Maybe you've had a fire sprinkler malfunction or your washing machine hose broke and leaked out water. If you forgot about it when you were filling up your bathtub, bath water can leak out into your bathroom and seep into the floorboards. Likewise, an accidental toilet overflow can do the same. Call 911 Restoration right away if you've had any of these issues crop up. 
For the most part, our water damage Thornwood team says that water damage is preventable. While you can't always protect against natural disasters that bring hurricanes and floods, you can take simple steps to keep your home safe. Among the things you can do include:
Always clean out your gutters and downspouts. Even if you don't see a blockage from the ground, make sure you get up there and check. It's important to let water flow naturally away from your home.
You can also install a sump pump with the guidance of our water damage Thornwood team. This machine will help you make sure that rising groundwater doesn't damage your basement and all of your belongings.
Make sure you have a sewage back flow valve installed on all of your outgoing pipes. You don't want raw sewage and pumping water to flow back into your home, ruining your carpets, hardwood floors and possessions. That is a smelly, hazardous mess to take care of.
For all serious concerns, you can call us at 911 Restoration if you are experiencing any of these issues and we will be there within 45 minutes of your call. 
We have worked with Thornwood residents for over 35 years, clearing out their water damage and making their homes look and smell like new.  
Water Damage Repair Technicians That You Can Turn To
Our company makes sure our water damage Thornwood team is trained to use the latest drying technology when performing our water extractions. Our water removal and restoration services are second to none in the greater Long Island region.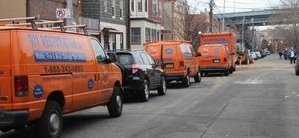 We want to be able to help you right when you need us most. For your convenience, we are available 24/7/365 so we can take care of the worst issues before they can cause any significant harm to your property.
We will help you get your home back into the best shape it has ever been. Our affordable prices help make your water damage a cinch to take care of and we will work with your insurance company, no matter who you're with. Call the water damage Thornwood technicians from 911 Restoration right now for same day service and reliable professionalism.