Water Damage in White Plains
When you're dealing with a water damage emergency, it is crucial to receive help fast. If left to sit, moisture issues can expedite structural problems and mold growth within a matter of days. Fortunately, 911 Restoration of Westchester is dedicated to providing you with immediate assistance. Our technicians are available 24/7/365 to provide water damage restoration in White Plains. We guarantee to arrive within 45 minutes of receiving your call, so you never have to wait for help when amid a water disaster. With so many years of experience in the restoration industry, our staff has faced all kinds of water damage. You can trust us to design a water cleanup strategy that will leave your property looking better than new. Call us at 914-222-4041 and see how we can offer you a free visual inspection.


911 Restoration of Westchester starts the water restoration by giving the property owner a free water damage and mold inspection. We always check for both issues since moisture breeds mold.
Our repair techs will formulate an estimate of the water mitigation needed to restore your property entirely. We make it a priority to give you all the information you need to feel comfortable moving forward with the restoration services.
We are focused on giving you the best assistance possible by emphasizing customer service and professionalism. Keeping you up-to-date every step of the way will not only put you at ease but provide you with peace of mind knowing that the line of communication is always open.
There are service agents continually standing by to give you answers right away. Whether you have questions about the flood cleanup services or need details regarding the water cleanup cost, we can provide you with immediate clarification.
You can trust that you are receiving help from the most qualified restoration company in the industry. We employ highly trained technicians that are IICRC certified by the Institute of Inspection, Cleaning, and Restoration. We want you to have complete confidence that you are under the care of the best in the business. Our entire company is licensed, bonded, and insured to ensure your protection in every situation.
So, call the team that cares and understands what you need to recover from even the most severe water disaster. 911 Restoration of Westchester will turn your water damage into the Fresh Start you deserve! Call us at 914-222-4041 and see how we can help.

24/7 Water Removal and Drying Services After a Storm Emergency
White Plains receives abundant precipitation for most of the year. The seasons bring extreme weather patterns, such as thunderstorms, tropical cyclones, and snowstorms, all of which can cause extensive water damage.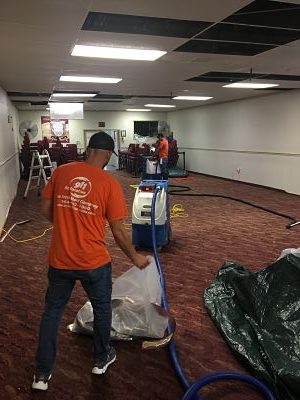 As a locally owned and operated restoration company, all of our technicians are keenly aware of how the regional climate impacts homes and businesses in White Plains. We know the specific water damage restoration needed to recover your property from storm damage emergencies.
Flooded basements are one of the main issues caused by seasonal storms. The rain can seep into your property's foundation, leaving the underground space filled with gray water. Gray water is potentially hazardous since it contains outdoor substances that can include bacteria, animal waste, and other toxins.
While torrential rain can create basement flooding and water leaks, the significant influx of water can also flood your plumbing system. This can lead to pipe bursts and sewage overflows. Sewage is also known as black water and is especially toxic to both humans and pets.
It is crucial to receive professional flood cleanup in White Plains, not only to minimize property damage but to protect yourself from the health risks posed by gray and black water. Our technicians will safely administer the water extraction services and disinfect the basement floors after a flood.
Your safety is always at the forefront of everything we do. When we conduct the water damage restoration, we make sure to meticulously handle every aspect of the job with the utmost care and precision.
Our restoration company will always be there for you, no matter the circumstances. Whether you're dealing with storm damages, basement flooding, or plumbing problems, you can count on us to fix up your property completely.
Call 911 Restoration of Westchester at 914-222-4041 the moment you need basement flood cleanup services. We will show you that a storm can bring the Fresh Start you've been needing all along!
Efficient Water Restoration will Prevent Mold Growth
Thorough water removal and drying procedures are essential in preventing mold and mildew, especially during the humid summers in White Plains. When conditions are right, it only takes 24 hours for mold to grow once moisture is present.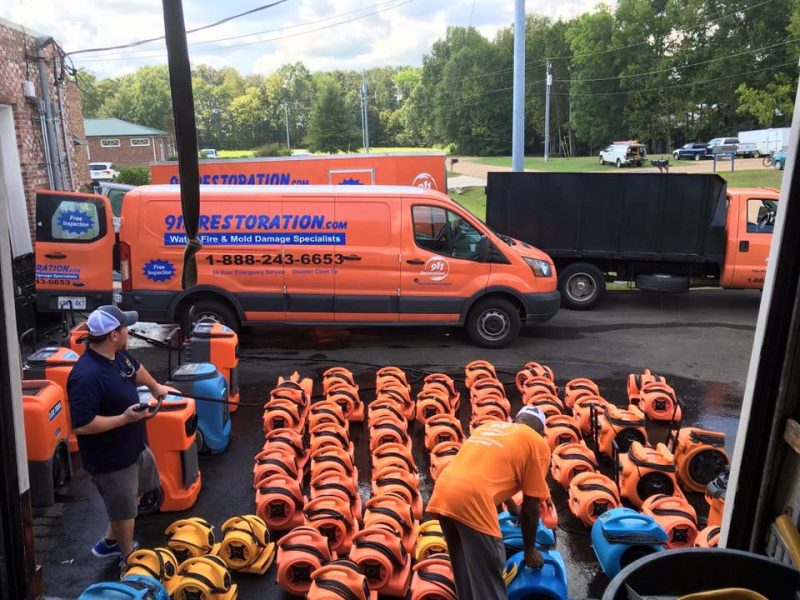 911 Restoration of Westchester urges you to contact us as soon as you need flood cleanup services. We will conduct water extraction, drying, and dehumidifying services, doing all we can to stop mold from spreading.
Since the chance of mold growth is high, we prepare our technicians to administer mold removal in tandem with the water damage restoration. We will check for signs of mold during the initial inspection to ensure nothing goes overlooked.
Thorough mold decontamination is key to eradicating any health risks created by the spores. Inhaling mold can cause allergic reactions, respiratory issues, and, in severe cases, lung infections.
Our experts know how to handle hazardous mold. By setting up containment barriers, we can stop airborne spores from spreading throughout the property during the mold removal. We will also properly dispose of moldy materials to prevent further contamination.
With 911 Restoration of Westchester on your side, you can be sure that you are receiving the most qualified assistance in the industry. Our technicians will provide the comprehensive water damage restoration that you need today at 914-222-4041!
Servicing the cities of Amawalk, Ardsley, Armonk, Bedford, Bedford Hills, Bethel, Blooming Grove, Brewster, Briarcliff Manor, Bronx, Bronxville, Buchanan, Carmel, Chappaqua, Chelsea, Cold Spring, Cortlandt Manor, Cross River, Croton Falls, Croton-on-Hudson, Dobbs Ferry, Eastchester, Elmsford, Fairview, Fishkill, Garrison, Golden's Bridge, Greenwich, Harrison, Hartsdale, Hastings-on-Hudson, Hawthorne, Heritage Hills, Hyde Park, Hopewell Junction, Howells, Irvington, Katonah, Lake Carmel, Lake Peekskill, Lincolndale, Mahopac, Mamaroneck, Middletown, Millwood, Mohegan Lake, Monsey, Montrose, Mount Kisco, Mount Vernon, Nanuet, New City, New Rochelle, New Windsor, Newburgh, North Salem, Ossining, Peekskill, Pelham, Pelham Manor, Pleasantville, Port Chester, Poughkeepsie, Pound Ridge, Purchase, Purdys, Putnam County, Putnam Lake, Putnam Valley, Rye, Saugerties, Scarsdale, Shenorock, Shrub Hub, Somers, Southfields, South Salem, Spring Valley, Stormville, Suffern, Tarrytown, Thornwood, Tuckahoe, Valhalla, Village of Pelham, Waccabuc, Wallkill, Wapperings Falls, Warwick, West Harrison, White Plains, Yonkers, Yorktown Heights, and the surrounding areas.