Water Damage in New Rochelle
Water leaks and basement flooding are common problems in New Rochelle. The annual precipitation is high, putting homes and businesses at risk of experiencing water damage throughout the year. Leaks and floods not only lead to water damage but mold infestations as well. To prevent structural issues and mold problems, 911 Restoration of Westchester stays available 24/7/365 to conduct leak repairs and flood cleanup in New Rochelle. Our technicians will spring into action the moment you call reporting a water damage emergency, guaranteeing to respond within 45 minutes. We must get to the property quickly before the damage gets worse, and subsequently more costly. Call us at 914-222-4041 and allow us to provide you with a free visual inspection.


911 Restoration of Westchester makes sure you are cared for properly throughout the recovery process. We give property owners free water and mold inspections to ensure nothing goes overlooked.
We are experts in implementing comprehensive services that deal with every aspect of the water damage restoration. Our repair techs will provide same-day water removal and drying procedures, along with mold removal when needed.
Our technicians know how quickly water disasters can escalate into a mold infestation. We use leak detection technology to find all hidden traces of moisture inside walls and ceilings. No part of the property will go unchecked.
We want you to feel completely confident in our ability to restore your home or business. 911 Restoration works with IICRC certified technicians and is licensed, bonded, and insured for your protection.
Water removal is only the beginning of the remediation process. To truly complete the job, we need to make sure you are completely satisfied with the water damage restoration in New Rochelle. You can trust that customer service is our main concern.
Taking care of your home and business is the reason that we do this work. We live for water restoration, but the real goal is to give you back your peace of mind. So, call 911 Restoration of Westchester today, and our technicians will provide you with the Fresh Start you deserve! Call us at 914-222-4041 and see how we can help.

Wintertime Brings Pipe Bursts and Flooded Basements
Our technicians have repaired all kinds of water damage over the years, and pipe bursts always create some of the most problematic circumstances.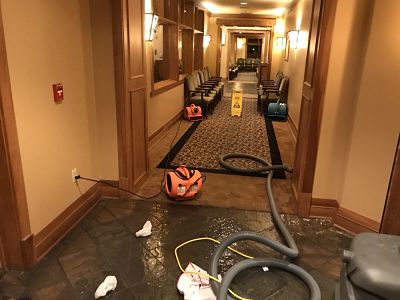 Winters in New Rochelle can create freezing temperatures that profoundly impact your plumbing system. When pipes freeze, they are susceptible to breaking because the water inside will expand and crack the metal.
Once the ice inside the broken pipe thaws, water will spray out, created a basement flooding disaster. Since basement floods can occur within hours of the pipe burst, we provide 24-hour emergency water cleanup services.
Whether it is day or night, you can count on our repair techs to respond immediately with water extraction, drying, and dehumidifying services.
Not only will we provide full-service flood cleanup, but our onsite technicians will give you information on how to avoid future pipe bursts and other winter water damage emergencies. Our experts always try to help people side-step these kinds of wintertime catastrophes. You can rest easy knowing that we will not only help you with water damage restoration but provide prevention tips too.
Ultimately, implementing regular maintenance is vastly cheaper than receiving professional flood cleanup services. This is why you should hire our technicians the moment you notice smaller issues, like kitchen ceiling water damage and water leaks in the basement.
If you find yourself dealing with a pipe burst or basement flood, call 911 Restoration of Westchester right away. We will conduct the water damage restoration needed to get your property clean and dry in no time! Call us at 914-222-4041.

Delivering Customer Satisfaction On Every Water Damage Job
911 Restoration of Westchester has been in the water damage restoration industry long enough to fully understand the challenges presented by water disasters.
We realize that it may be difficult to imagine your property entirely restored when submerged in floodwater. However, our technicians will prove that we can make it look better than new.
If you need 24-hour home flood cleaning services, you can depend on our repair techs to provide the immediate care you need. To 911 Restoration of Westchester, flood cleanup involves so much more than water removal and drying services.
Along with water extraction and repairs, your wellbeing is always at the forefront of everything we do. Our technicians make customer service a priority on every job, and you can trust that we always have your best interests in mind.
We will assist you with every aspect of the water cleanup service, which includes help with the financial side of the job. We understand that you will have questions regarding the water and mold removal cost. Our onsite technicians will give you the answers you need by providing a free estimate of the damages.
You will find that we provide affordable, high-quality restoration services and accept all types of insurance. If you need help understanding your insurance coverage, 911 Restoration of Westchester will offer you a free insurance consultation.
Not only will we directly bill your insurance company and file your claim, but our technicians will help you take inventory of your losses to submit to your provider. The more information your insurance company receives, the more coverage they will provide.
Call 911 Restoration of Westchester  at 914-222-4041 when you have questions regarding flood restoration, insurance, or anything else about water mitigation. We will show you that a Fresh Start is possible!
Servicing the cities of Amawalk, Ardsley, Armonk, Bedford, Bedford Hills, Bethel, Blooming Grove, Brewster, Briarcliff Manor, Bronx, Bronxville, Buchanan, Carmel, Chappaqua, Chelsea, Cold Spring, Cortlandt Manor, Cross River, Croton Falls, Croton-on-Hudson, Dobbs Ferry, Eastchester, Elmsford, Fairview, Fishkill, Garrison, Golden's Bridge, Greenwich, Harrison, Hartsdale, Hastings-on-Hudson, Hawthorne, Heritage Hills, Hyde Park, Hopewell Junction, Howells, Irvington, Katonah, Lake Carmel, Lake Peekskill, Lincolndale, Mahopac, Mamaroneck, Middletown, Millwood, Mohegan Lake, Monsey, Montrose, Mount Kisco, Mount Vernon, Nanuet, New City, New Rochelle, New Windsor, Newburgh, North Salem, Ossining, Peekskill, Pelham, Pelham Manor, Pleasantville, Port Chester, Poughkeepsie, Pound Ridge, Purchase, Purdys, Putnam County, Putnam Lake, Putnam Valley, Rye, Saugerties, Scarsdale, Shenorock, Shrub Hub, Somers, Southfields, South Salem, Spring Valley, Stormville, Suffern, Tarrytown, Thornwood, Tuckahoe, Valhalla, Village of Pelham, Waccabuc, Wallkill, Wapperings Falls, Warwick, West Harrison, White Plains, Yonkers, Yorktown Heights, and the surrounding areas.