Water Damage in Poughkeepsie
Living in Poughkeepsie comes with its fair share of challenges. The humid continental climate generates abundant precipitation throughout the year. Ice dams, tropical cyclones, and thunderstorms can severely impact homes and businesses in the area. 911 Restoration of Westchester stays open 24/7/365, so we can help you no matter what time of the day or night you call for help. We guarantee to arrive within 45 minutes of receiving your call when you're experiencing a water damage emergency. Our technicians will conduct same-day water removal and drying services to minimize property damage and prevent mold growth.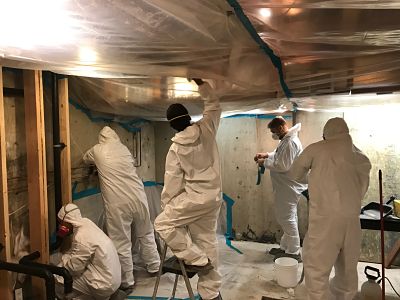 911 Restoration of Westchester is locally owned and operated by a staff that is keenly aware of how the regional weather patterns impact homes and businesses in Poughkeepsie.
Whether you're dealing with basement flooding, pipe bursts, or carpet water damage, our repair techs will provide the water damage restoration needed to recover your property entirely.
You can have total confidence that our technicians can handle all kinds of water damage. We employ IICRC certified professionals that have reached the highest standards in the industry.
Our entire flood cleanup company is licensed, bonded, and insured. Our insurance status ensures that we will protect you in full you under all circumstances.
Customer service is essential to the water restoration process. We are committed to getting you through any situation with professionalism and positivity. You can trust that our technicians will treat your property with the respect you deserve.
911 Restoration of Westchester provides full-service water damage restoration in Poughkeepsie. Call our technicians today to receive help from a team that cares and understands what you need from a restoration company.
We Will Help You Recover From Storm Damage and Flooding
Poughkeepsie is susceptible to extreme weather throughout the year, ranging from winter snow to tropical storms. Heavy wind, rain, and snow can all cause extensive water damage on your property.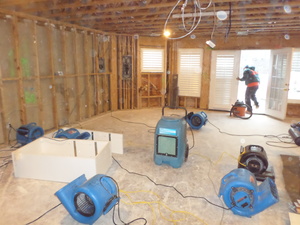 Fortunately, our technicians are ready to provide immediate flood cleanup in Poughkeepsie. The faster we conduct water removal, the better the chances are of preventing permanent damage and mold growth.
Seasonal storms commonly cause flooded basements. Rain can seep into your property's foundation, creating water leaks in basements that can turn into substantial water damage.
Pipe bursts can also lead to basement flooding, especially in the winter, when temperatures drop below freezing. Frozen pipes can crack and break, resulting in a water burst.
Regardless of the circumstances, our repair techs will execute a flood cleanup strategy that will make your property look better than new. We will thoroughly dry and dehumidify the area to stop rot and mold growth.
Mold can grow within 24 hours of exposure to moisture, making prompt water damage restoration vital to your recovery. Our technicians will check for mold in carpet from water damage and disinfect basement floors after flooding occurs.
You can count on 911 Restoration of Westchester to fix up your property after a storm. So, call our professionals the moment you need flood restoration. We will give you the peace of mind you need!
Affordable, High-Quality Water Damage Restoration
We understand that once you realize you need flood cleanup, you immediately will have questions about the water and mold removal cost. Our technicians want to give you quick answers to put your mind at ease.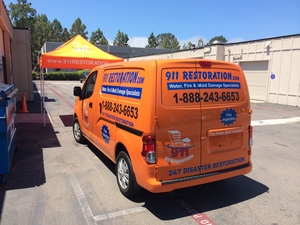 By conducting the initial inspection, we can formulate an estimate of the necessary water cleanup services. You will find that 911 Restoration of Westchester keeps competitive prices and accepts all types of insurance.
Our staff has years of experience when it comes to dealing with insurance companies. We will provide you with a free insurance consultation to make sure you fluently understand your policy.
By having a professional go over your plan, you will understand what coverage you are entitled to receive. We will directly bill your insurance provider and file your claim for you.
You will receive the most financial aid by submitting as much detailed information as possible to your insurance company. Our onsite technicians will assist you with this process by helping you take inventory of your losses.
Due to all of our experience in the industry, our staff knows exactly what information your insurance company needs to get you the coverage you deserve. Our goal is to provide you with high-quality, yet affordable, water damage restoration.
So, call 911 Restoration of Westchester the moment you need professional water mitigation. We will show you that a Fresh Start is possible today!
Servicing the cities of Amawalk, Ardsley, Armonk, Bedford, Bedford Hills, Bethel, Blooming Grove, Brewster, Briarcliff Manor, Bronx, Bronxville, Buchanan, Carmel, Chappaqua, Chelsea, Cold Spring, Cortlandt Manor, Cross River, Croton Falls, Croton-on-Hudson, Dobbs Ferry, Eastchester, Elmsford, Fairview, Fishkill, Garrison, Golden's Bridge, Greenwich, Harrison, Hartsdale, Hastings-on-Hudson, Hawthorne, Heritage Hills, Hyde Park, Hopewell Junction, Howells, Irvington, Katonah, Lake Carmel, Lake Peekskill, Lincolndale, Mahopac, Mamaroneck, Middletown, Millwood, Mohegan Lake, Monsey, Montrose, Mount Kisco, Mount Vernon, Nanuet, New City, New Rochelle, New Windsor, Newburgh, North Salem, Ossining, Peekskill, Pelham, Pelham Manor, Pleasantville, Port Chester, Poughkeepsie, Pound Ridge, Purchase, Purdys, Putnam County, Putnam Lake, Putnam Valley, Rye, Saugerties, Scarsdale, Shenorock, Shrub Hub, Somers, Southfields, South Salem, Spring Valley, Stormville, Suffern, Tarrytown, Thornwood, Tuckahoe, Valhalla, Village of Pelham, Waccabuc, Wallkill, Wapperings Falls, Warwick, West Harrison, White Plains, Yonkers, Yorktown Heights, and the surrounding areas.