Water Damage in Scarsdale
Severe weather conditions are present in Scarsdale year-round, requiring you to prepare your property for storms and water damage. However, even with diligent maintenance, you may still find yourself in a situation requiring professional water damage restoration. Day or night, you can count on 911 Restoration of Westchester to provide immediate leak repairs and flood cleanup in Scarsdale. There is no time to waste when dealing with a water damage emergency, which is why our technicians stay available 24/7/365. We guarantee to arrive within 45 minutes of receiving your call, ready to begin same-day water removal and drying services.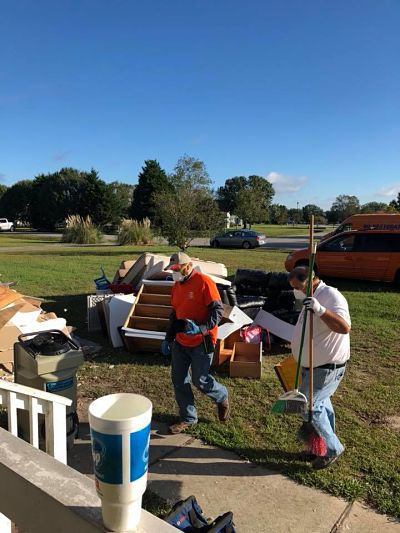 911 Restoration of Westchester is available for 24-hour emergency water cleanup, so you never have to wait for help.
As soon as our technicians arrive, we will start the water restoration by giving the property owner a free water damage and mold inspection. This assessment will allow us to formulate an estimate of the water cleanup cost.
There is no situation too big for us to handle. Whether you're affected by basement flooding, water leaks, or pipe bursts, our technicians will recover your property entirely.
You can have complete confidence in our highly trained professionals. Along with having years of experience, the Institute of Inspection, Cleaning, and Restoration has given our technicians their IICRC certification.
We want you to feel cared for throughout the entire water damage restoration process. Our staff will walk you through everything, from the initial inspection to filing your insurance claim.
Our technicians care and understand what you need from a flood cleanup company. So, call 911 Restoration of Westchester the moment you require water cleanup services. We will show you that we can turn a disaster into a Fresh Start today!
Flooded Basements Can Cause Mold Infestations
It is vital to receive water damage restoration in Scarsdale quickly after natural disasters occur. The area is prone to seasonal flooding, heavy rain, and snowstorms, all of which can cause extensive water damage, structural issues, and mold growth.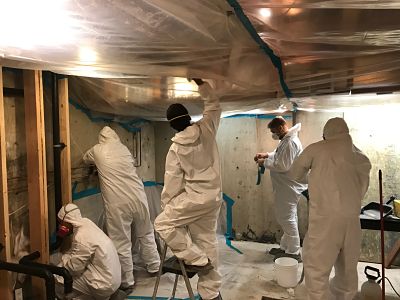 Our technicians have experience mitigating problems caused by these harsh weather systems. Basement flooding is one of the most common issues created by seasonal storms.
There are many different ways your basement can flood. Torrential rainfall can expose water leaks in basements, which can eventually flood the space. Pipe bursts can also cause indoor flooding within a matter of hours.
While rain is present most of the year, summers in Scarsdale are the most humid. The high precipitation and humidity levels create the perfect environment for basement mold. Under the right conditions, it only takes 24 hours for mold spores to grow after moisture exposure.
Receiving emergency flood cleanup is the best way to minimize mold and water damage. You can depend on our technicians to provide you with water damage restoration the moment you need assistance.
The sooner we arrive on your property, the faster we can administer the water removal and prevent mold infestations. Our technicians use leak detection technology to ensure we don't overlook any spots of moisture.
Call 911 Restoration of Westchester when you need professional flood restoration in your basement or any other part of your property. Our repair techs will give you the peace of mind you need to get through any water disaster.
Successful Water Mitigation Requires Excellent Customer Service
No matter what the situation, 911 Restoration of Westchester always emphasizes customer service. There is nothing more important than keeping you feeling positive throughout the water damage restoration.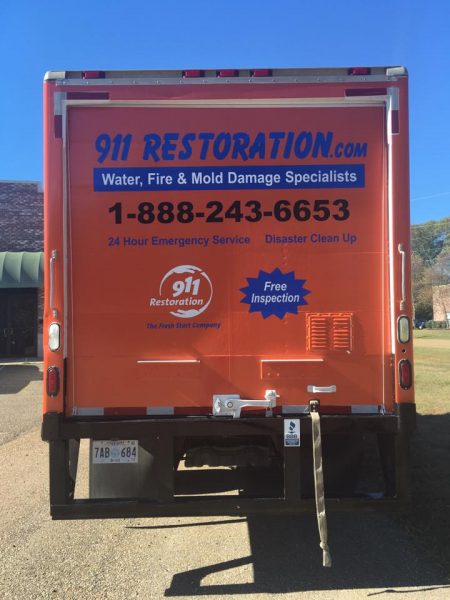 Dealing with water damage is challenging, but with our technicians by your side, the repair process will feel easy. We will guide you through every step of the restoration to ensure you feel comfortable the whole way through.
We realize you will have questions regarding the water cleanup cost. Our technicians want to give you these answers as soon as possible. After conducting the initial inspection, we can formulate an estimate of the water and mold removal cost.
To keep your out-of-pocket expenses low, 911 Restoration of Westchester keeps competitive prices and accepts all types of insurance. We want everyone in Scarsdale to have access to high-quality, affordable water cleanup services.
Our staff members will provide you with a free insurance consultation to make sure you fluently understand your policy. We will directly bill your insurance company and file your claim for you.
We want you to receive the financial aid you deserve. You will receive the most coverage from your provider by giving them detailed information about your property damage. Our onsite technicians will assist you with this process by helping you take inventory of your losses.
It is important to remember that sometimes good things come from unexpected places. Water damage on your property may be the catalyst for the renovations you have always wanted. So, call 911 Restoration of Westchester when you have questions about insurance, flood cleanup, mold removal, or anything else regarding water restoration. We will show you that a Fresh Start is possible today!
Servicing the cities of Amawalk, Ardsley, Armonk, Bedford, Bedford Hills, Bethel, Blooming Grove, Brewster, Briarcliff Manor, Bronx, Bronxville, Buchanan, Carmel, Chappaqua, Chelsea, Cold Spring, Cortlandt Manor, Cross River, Croton Falls, Croton-on-Hudson, Dobbs Ferry, Eastchester, Elmsford, Fairview, Fishkill, Garrison, Golden's Bridge, Greenwich, Harrison, Hartsdale, Hastings-on-Hudson, Hawthorne, Heritage Hills, Hyde Park, Hopewell Junction, Howells, Irvington, Katonah, Lake Carmel, Lake Peekskill, Lincolndale, Mahopac, Mamaroneck, Middletown, Millwood, Mohegan Lake, Monsey, Montrose, Mount Kisco, Mount Vernon, Nanuet, New City, New Rochelle, New Windsor, Newburgh, North Salem, Ossining, Peekskill, Pelham, Pelham Manor, Pleasantville, Port Chester, Poughkeepsie, Pound Ridge, Purchase, Purdys, Putnam County, Putnam Lake, Putnam Valley, Rye, Saugerties, Scarsdale, Shenorock, Shrub Hub, Somers, Southfields, South Salem, Spring Valley, Stormville, Suffern, Tarrytown, Thornwood, Tuckahoe, Valhalla, Village of Pelham, Waccabuc, Wallkill, Wapperings Falls, Warwick, West Harrison, White Plains, Yonkers, Yorktown Heights, and the surrounding areas.