Fire Damage Westchester Prevention: Choosing a Fire Safe that Won't Cary Strafe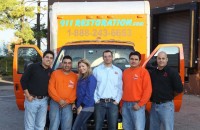 A household fire is one of the most frightening things a homeowner can experience. Aside from burning and harming your home's structure a fire can destroy valuables that may not be covered by your insurance policy. It can also reduce your photos and precious memories to cinders. This article will discuss some important decision-making choices people face when shopping for a fire safe, and will explore other ways you can keep your items safe from fire and smoke damage. But first things first, if your home ever catches fire there are three important steps to take: (1) make sure everyone and all pets are evacuated and safe from harm's way, (2) call 911 for the fire department and (3) call a local fire damage restoration company that can be standing by ready to start restoring your home as soon as the fire department has finished their job!
What Should I Store in my Fire Safe?
Before you buy a fire safe you must first decide what items you will store in it, and to be practical important documents, photos and papers are ideal. If you have expensive jewelry, fine art or a 1908 Honus Wagner baseball card appraised over $2 million, you would be better to keep these things in a bank safe deposit box. Most people use fire safes to store birth certificates, passports, important data saved on CDs, insurance policies and photos. However, as a rule of thumb it would be advantageous to have all your photos scanned and saved in a cloud system for additional security.
How do you Choose a Fire Safe?
When you set out to choose a fire safe you must consider a number of points that include heat factors, water resistance and burglary proof. According to Consumer Reports the best fire safes are going to rate highly in these three areas. Furthermore, the site reports that the best way to determine the size of the fire safe you require is to stack everything up in a pile and take some measurements. A typical home safe capacity measures between 1.2 and 1.3 cubic feet and can accommodate a 12 inch pile of papers with room to spare.
When it comes to choosing a safe with heat protection being the most important concern, you must consider what you are storing. If it is just papers you can get a safe that prevents the contents from heating up past 350 degrees. However if you are storing old celluloid films, cassettes or VHS tapes, the contents can't exceed 150 degrees while computer discs and DVDs can't heat up past 125 degrees.
When selecting a safe that protects its contents from water damage, you will typically find yourself paying an additional cost as it is considered a special feature. This seems like an odd industry rule, considering the fact that fire departments spray hundreds of gallons of water into home fires and leave the homeowner on the phone with a licensed water damage company to step in and perform water removal services. Nonetheless it is a good idea to get a safe that is water resistant. Some have been tested to withstand total submersion up to a few feet, while others can take on the blast from a fire hose.
In terms of burglary protection weight should be the prime factor. No burglar wants to carry a 150 pound safe around and slow himself down; instead he would likely rather snatch small home electronic devices. Independent ratings for burglar-proof safes are more standard in the commercial arena where casinos, jewelry stores and pawn shops operate. Some are designed to withstand torches and certain tools and in some cases even explosives. But unless you are living in a James Bond movie the chances of a burglar with some C4 and a blowtorch attacking your safe are pretty remote!