Storms vs. Hurricanes – Disaster Restoration Difference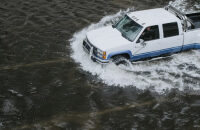 When it comes to natural disaster restoration techniques, people often think that the same principles apply to tropical storms and hurricanes. This is a very common misconception that can eventually end up costing you quite a lot for restoration – and insurance providers may not reimburse you for it either!
911 Restoration has seen many customers fail to differentiate between the two, which results in lost time bringing the right equipment and more frustration for everyone involved. To tackle this issue, in this article, we will be reviewing the difference between the two types of natural disasters and their restoration process in detail.
Natural Disaster Restoration For Tropical Storms & Hurricanes
Tropical storms and hurricanes present two relatively similar yet different natural disasters, each presenting unique risks to your safety. The misconception between the two isn't uncommon, and to be fair, not ill-founded, either. 
The primary difference is wind speed. Sustained winds of 73 mph or below (less than 63 knots) with or without rain (or hail) constitute a tropical storm. Even winds of up 73 mph are enough to carry your roof away, which is why the authorities often order an evacuation if the threat of tropical storm looms.
Winds of 74 mph (64 knots) or above constitute a hurricane. These are also known as tropical cyclones and reflect an organized system of clouds that also includes thunderstorms. Tropical storms do not necessarily have thunderstorms. The defining factor of a hurricane is the presence of a well-defined center, with the system rotating around it. Hurricanes usually originate over warm waters. 
Hurricanes are inherently more dangerous and can lead to extensive water damage inside houses – if there is anything left of it. There is even a risk of fire damage with hurricanes as they can lift dangerous, flammable substances and throw them around. 
Planning ahead is the only option you have when looking to survive hurricanes. Usually, insurance providers can help you with the natural disaster restoration process as far as hurricanes and tropical storms are considered. However, it always helps to err on the side of safety. 
As the prevalence of natural disasters increases throughout the US (especially tropical storms and hurricanes), before signing any document, make sure there is a clause ensuring that they will help in case of natural disasters. 
Disaster Mitigation BEFORE a Tropical Storm or Hurricane
The best course of action you have when looking to mitigate the threat of hurricanes is to strengthen your home against three key factors of both natural disasters:
Flooding

High winds

Lightning. 
You should enroll the help of professionals for this as even the slightest mistakes here can have potentially disastrous results.
Make sure you keep a close eye on the storm and hurricane warnings. 

Create or review a family preparedness plan

Create or review a family communication plan

Create a survival kit with all the essentials. Stock canned goods and warm blankets, no matter how hot it is. 

Secure your property. You may need to consult

board-up services

for this. 

Trim trees and shrubs close to your property
Next, you need to wait for the evacuation order. Once issued, you will need to follow the instructions provided. 
Difference Between Natural Disaster Restoration Processes 
Tropical storm damage isn't usually as intensive as hurricane damage, but there are still quite a lot of things that you may need to get done. The biggest difference is that with tropical storms, you will most probably be in your home when the damage occurs. Depending on the damage, you may need IICRC certified experts who are available 24/7, or you can wait. 
Waiting isn't advisable for storms, though, especially if drywall is exposed to weather extremes. Not only will you need water damage restoration services, if you wait, you may also have to hire mold removal companies – for which insurance may not cover the cost. 
Again, board-up services will come into play here. 
For hurricane damage, the chances are that you will only notice the damage when you come back after the evacuation. Note that you won't be the only one who comes back to a hurricane-damaged property, so time is of the essence. Call 911 Restoration as soon as possible to get your property restored first. 
While for a tropical storm, natural disaster restoration may include a handful of things, when it comes to hurricanes, you may need a full service. Even if there is mold because of a lack of timely board-up services (provided you took all the necessary precautions), the time delay won't matter with insurance claims. 
No matter the extent of damage, natural disaster restoration can be very tricky and a pain, to say the least. The best way to ensure that the damage gets mitigated and restored quickly is to call 911 Restoration of Westchester as soon as possible. We're here to help you with any issues you may face, even in the midst of a storm!