Firehouse Fire in Westchester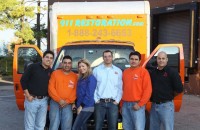 Everyone wants to believe that they do a good job of protecting their houses and personal property from fires. However, no place can ever be 100 percent fireproof. This is why fire restoration services are greatly needed. A perfect example of no place being completely fireproof was seen when a firehouse in Lewisboro, New York caught fire last month. This is a building that's sole purpose is not only to fight fires but to be filled with people who are experts at preventing them.
Fire at Golden's Bridge Firehouse
When people think of a firehouse, they think of a place that stops fires, not starts them! Unfortunately, a fast-moving fire caused significant fire damage to the Golden's Bridge Firehouse. Ed Barncati, who is on the Golden's Bridge FD Board of Commissioners, said that it is extremely embarrassing to have to call 911 and tell the police that your firehouse is on fire.
Regardless of how embarrassing this may have been, that is just what happened. At the time of the fire, there was only Ed Barancati and one other firefighter in the building. The fire was first noticed when they saw smoke coming from a heater upstairs. When they went down to investigate the rest of the building there was a small explosion and they knew it was time to get out of there.
Despite the fact that nearly 100 firefighters were called to the scene, it took them nearly two hours to put out the flames. There was a significant amount of fire damage to the building, and the firehouse lost a lot of equipment including a half a million dollar fire truck. If they are not able to prevent fires and fire damage at a firehouse, how are they going to be able to protect your home?
Fire Prevention Tips
As we have clearly seen above, there is no way to ever completely prevent a fire. However, there are steps that you can take to at least protect your family in the event of a fire. For example, make sure all of the smoke detectors in your home are functional, and discuss a fire escape plan with your family.
To help prevent fires, always make sure that you do not light candles close to anything that is flammable. If you use a little space heater, make sure that you follow the directions that come with the unit. Also, do an inspection of your electronics and outlets once a month.
Professional Restoration
Professional restoration teams are great at removing soot and the acidic smoke that builds up in your home during a fire. Soot is not something that is easy to remove and you should not try to clean it yourself with traditional household cleaners. This will only make it worse. Soot must be removed using specialized cleaners depending on the surface that is being restored. The only way that you can be 100 percent sure that your home is restored is to hire a professional restoration team.