Staying Safe In The Aftermath Of Hurricane Irma
Staying Safe In The Aftermath Of Hurricane Irma
As home and business owners are still recovering after the impact of both Hurricane Harvey and now Irma, it is necessary to stay prepared even as the storm passes through and continues on into other states.
When severe weather overwhelms a city like Westchester, it is important to stay connected to those in your community in order to keep your finger on the pulse of the situation in order to give and receive the help where it is needed.
911 Restoration always makes the safety of their customers their highest priority and we only hope to make that even more apparent during these especially chaotic times. Our trained technicians make themselves available around the clock in order to be there for you when you need it most.
Even though the help of our staff is only a phone call away, residents should still be aware of how to go about handling the aftermath of a hurricane. Having a plan will keep you calm and collected after the storm has subsided and you are left to deal with the consequences.
Know What To Do After A Hurricane Has Passed Through
In order to keep you prepared, 911 Restoration has created a list of some of our most important advice on how to minimize any risk imposed on you and your family.
Stay connected to the media by any means in order to be aware of the impact that the hurricane had on your city, especially if you were evacuated and are preparing to reenter your home.

Be aware of the any road blocks, loss of power and structural damage that may be in your surrounding area. Do not rush to get back to your home if it seems as if the immediate danger has not yet been sufficiently cleared.

Keep an extra copy of important documents in your car, such as your identification and passport. It may also be smart to keep some petty cash, a credit card or checkbook in there as well.

If you are in a safe place and do not have to drive, then avoid doing so until the weather has completely cleared up and the surrounding damage has been properly assessed.

Always avoid power lines that have been knocked down.

Avoid the use of any fire, such as matches and lighters, until you have been notified that there are no gas leaks nearby.

If your home has been flooded and there is standing water present, try to limit your use of power in the property until an electrician can be sure that there are no electrocution risks present.

Have a professional home restoration technician inspect the property for any plumbing issues that may have occurred during the storm, such as broken pipes and leaks. This also includes sewage overflows, which can case contamination issues.

Be aware that pests such as rats, mice and even snakes may have "run for cover" in your home during the storm, so it may be wise to have an exterminator check the property at some point during the recovery process.

Document any damage that was done to your property by photo or video in order to provide proof of damage to your insurance company before you begin any repairs.
By referencing these tips you can stay focused on what needs to be done in a potentially chaotic time to successfully begin the flood damage recovery process.
Our Company Will Be There To Repair Your Property After The Storm
We never want you to feel alone during these times, which is why our team is available 24/7/365 to assist you with any restoration efforts that you may need in the wake of Hurricane Irma.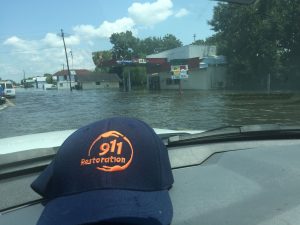 On top of constantly being available, we also guarantee that we will arrive within 45 minutes of receiving your call to give you a free inspection.
We know just how crucial it is to get your property checked out after any type of water damage incident, that way your can notify your insurance provider and get the ball rolling with restoration procedures.
When you hire us to conduct a hurricane disaster cleanup in your home, you can feel confident knowing that we work with all insurance companies, along with offering the most competitive prices in the industry.
Even more importantly than our affordable services, 911 Restoration offers customer service that is matched by none. We consider ourselves a family, and as soon as we arrive on your doorstep you become part of that family. Our team members are sure to be out in the field with the hurricane relief workers and local volunteers to make sure that Westchester stays safe and beautiful for many years to come.