Water Damage Westchester: Roof Maintenance Made Easy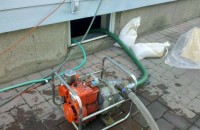 Your roof is a major component of your home's structural integrity. If you don't keep it in tip-top condition, you may find yourself making a frantic phone call to a water damage Westchester company for immediate water removal services.  At the end of the day, your roof takes care of you; it keeps your home standing strong and it protects your family and possessions from Mother Nature. By learning how to care for your roof you can minimize the likelihood that future happenings may require you to call for emergency water damage restoration services from a licensed water damage Westchester team. If you take care of your roof, it will take care of you!
What to Look for in a Roof Inspection
Don't think for one minute you have to scale ladders and inspect your roof form great heights; you can use a pair of binoculars to perform an inspection from the ground or from a neighbor's window. There is no point to get up on your roof just yet; as a visual inspection is the first step. Here's what to look for:
Shingles that are blistering, buckling or curling
Cracked caulk
Rusted areas on flashing
Missing shingles
Broken shingles
Cracked rubber boots around vent pipes
Damages or missing chimney cap
Clusters of black algae or moss
If any of these are apparent through your binoculars, you will want to contact a professional roofer to perform a detailed inspection. All too often water damage Westchester offices are called out to perform water damage restoration services because the roof was in such bad shape it allowed water to cool inside rooftop crevices causing extensive damage.
Addressing the Easy Fixes
When you discover missing or damaged shingles they should be replaced without delay. At this point you will need to brave the heights and climb a ladder to your roof so you can search for any popped up nails that need to be hammered back in. Replacing shingles is inexpensive—most home improvement stores sell them in bundles for around $25.00 while some caulk will cost you between $5 and $10 dollars. You can also use the caulk to reseal your vinyl flashing, skylights, chimneys and attic vents. But if you see any deterioration or the onset of rust, these materials must be replaced.
The Early Signs of a Roof Leak
Problems can occur at anytime that can damage your roof, so even if you perform a yearly inspection you should still be on the lookout at all times. Early signs of trouble include the following:
Peeling paint under roof overhangs
Dark spots on the ceiling
Wet spots alongside fireplace
Water stained pipes venting the furnace or heater
If you detect any problems, especially if your roof if over 15 years in age or there has been a recent storm with strong wind or hail, any water damage Westchester pro would advice you seek a professional assessment right away. Some roofers offer free inspections but those who work under the umbrella of the National Roof Certification and Inspection Association will charge less than $200 for a certified inspection.
Don't neglect your roof; show it love and attention and it will dish back the same by keeping your home and family members within safe.