Water Damage Westchester: Why a Pipe Leak is Bleak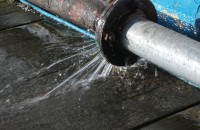 If you are like the rest of us, you enjoy pleasant things like lollipops in your mouth and sunshine above your head. But sometimes a homeowner can experience a sable, black cloud of bleakest ennui, and it comes in the form of a pipe leak. A pipe leak may not seem like a big deal to many people. After all, it's not like your plumbing is spewing hundreds of gallons of gray water into your basement. But a pipe leak can cause a great deal of damage that only an experienced water damage restoration Westchester company can remediate. A pipe leak can cause a number of disastrous events that can make Charles Dickens' 'Bleak House' look like Disneyland. By understanding the subtle threats that lurk in pipe leaks, you can better protect your home from succumbing to misery and woe.
Can a Pipe Leak Cause a Home to Flood?
Pipe leaks cause homes to flood on a regular basis. When we think of a leak most tend to recall an image of a slow, steady drip. But pipe leaks can turn into major disasters fairly quickly.  In fact one particular pipe leak quickly turned into a burst and flooded an English road turning the street into a raging river. Pipe leaks may start our gradually, but they can soon expand and cause a crack to form that can unleash hundreds of gallons of gray water into your living room, basement, or kitchen. Therefore it is vital to address any pipe leak you may discover, and have a professional plumber inspect your pipes once a year for cases of preventative maintenance.
Can Pipe Leaks Cause Mold?
Indeed, a pipe leak can cause mold to grow, and if not removed by a professional mold remediation company your home and when it comes to threats against human health, family members can be directly affected by toxic spores.  Mold thrives in moist areas with little sunlight and poor circulation. Mold spores are easily identified as black spots on the walls, but their onset is usually signaled by high levels of moisture in the air and a moldy odor that often permeates through the home. Mold can cause a number of illnesses and symptoms that include:
Skin irritations
Itchy or runny eyes
Coughing
Hallucinations
Asthma
Respiratory problems
Congestion
Lung infections
Death
Mold is nothing to take lightly; it has been known to affect people in differing ways, but it always unleashes a bleak lashing and often mold and neurological problems go hand in hand.
If you think you have a mold infestation, call a professional; most offer a free inspection and an upfront quote. Don't let your home and family take on the semblance of a scene from a Victorian Industrialization novel of bleakest scenes—address those pipe leaks and keep your home bleak free!